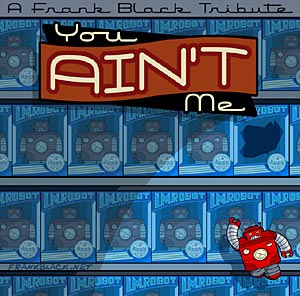 Cover of the You Ain't Me tribute
Unsatisfied with three albums in one year, Frank Black fans from all over have organized themselves to give us even more 'Frank Black' to listen to!
Come April, 2003, FB.net Forum member and organizer Dean Katsiris (Cult_Of_Frank) began organizing this project. By the end of June, he'd received over 40 submissions, which cumulated into this MP3 tribute 'album'.
Below you'll find out how you can download this amazing effort from your fellow Frank Black fans.
A big thank-you to Dean, as well as Tim, Ryan, and all the contributors to the CD, great job everyone!
- Dave Noisy, Minister of Chaos, July 15th, 2003
---
= You Ain't Me - A Frank Black Tribute - July 2003 =
CREDITS:
HOW TO DOWNLOAD:
Visit the Frank Black Forum, sign up, then visit the FTP area. You will need an FTP client to download the album - check out the FTP FAQ for info on this if you need help. (Note: you will not be able to view the area until you sign up and log into the Forum.) The CD Cover and Tray Inserts, as done by Ryan Wiesbrock is located on the FTP as well.
DETAILS:
There are two groupings of songs - the ones selected for the 'Album', and all other contributions, which are listed as 'B-Sides'. They're all encoded as 192kbps MP3's, and the 'Album' tracks have been remastered by Tim Franklin.
CD BURNING TIP:
The MP3s have the track spacing built in so that you can listen to the 'album' on a computer with correct spacing. To duplicate this on a CD, burn disc at once with no pauses between the tracks (you can't remove the pauses unless in DAO mode) to get that same spacing which we meticulously adjusted.
TRACK LISTING (Click on song for more details):
01. Andy Phipps - Headache
02. Asterid - His Kingly Cave
03. Disintegrated Einstein - Czar
04. Jim McLuckie - I Will Run After You
05. Crab Flank & the Chocktails - So. Bay
06. Toomey/Zembo - Oddballs
07. zenEQ - Men in Black
08. CAK - Brackish Boy
09. Jason Phelan - Dog Gone
10. Nam June Robot - I Could Stay Here Forever
11. Parchment Farm - 1826
12. Mike DiSanto - Pure Denizen of the CB
13. Derek Olson - White Noise Maker
14. Christoper Van Epps - Skeleton Man
15. Peter Radiator - Cold Heart of Stone
16. The Ohms - The Marsist
17. Paul Zaic - End of Miles
18. Neil Citter - How You Went So Far
19. Atheist4Catholics - I'll Be Blue
20. Zipper - Whispering Weeds
= Click here for B-Sides Info! =
---
Artist: Doog
Track: 01 - Headache
FB.Net Member: Doog
Instrumentation/Vocals: Andy Phipps
Mixing: Andy Phipps
Website: www.Nimrods-Son.co.uk
---
Artist: Asterid
Track: 02 - His Kingly Cave
FB.Net Members: Cult of Frank, Speedy M
Guest Lead Vocals: Russ Laidlaw
Backing Vocals: Dean Katsiris/Mike Velonas
Guitar/Drums: Mike Velonas
Keyboards: Dean Katsiris
Production/Mixing: Dean Katsiris
Website: TBA
---
Artist: Disintegrated Einstein
Track: 03 - Czar
FB.Net Member: adamwest
Instrumentation/Vocals: Ryan Wiesbrock
Website: http://mp3.com/diseinstein
---
Artist: Jim McLuckie
Track: 04 - I Will Run After You
FB.Net Member: El Barto
Instrumentation/Vocals: Jim McLuckie
Mixing: Jim McLuckie
---
Artist: Crab Flank and the Chocktails
Track: 05 - So. Bay
FB.Net Member: echo park
Vocals: Cynthia Haagens
Backing Vocals: Cynthia Haagens, Eric Potter
Guitars/Pedal Steel/Bass/Drums: Eric Potter
Recording & Mixing: Eric Potter
---
Artist: Toomey/Zembo
Track: 06 - Oddballs
Guitars/Backing Vocals: Jamison Toomey
Recording/Mixing: Jamison Toomey
Percussion/Lead Vocals: Thatcher Zembo
Recorded @ Jamie's home studio Westport, MA
---
Artist: zenEQ
Track: 07 - Men In Black (DeafCrazyWino Mix)
FB.Net Member: KennySue
Vocals: Kenneth Susan Benham-Pile
Backing Vocals: Kenneth Susan Benham-Pile
Sampling, Sequencing and Programming: Kenneth Susan Benham-Pile
Mixing: Kenneth Susan Benham-Pile
Additional Lyrics: Kenneth Susan Benham-Pile
Thanks to Jason and Derek for the Tab
Website: www.freewebs.com/kennethsusan
---
Artist: CAK
Track: 08 - Brackish Boy
FB.Net Member: Chris Knight
Instrumentation/Vocals: Chris Knight
Engineering/Production: CJ Helton & Chris Knight
Mixing: Chris Knight
Website: http://www.geocities.com/iggy_black
---
Artist: Jason Phelan
Track: 09 - Dog Gone
FB.Net Member: The Swimmer
All instrumentation/vocals: Jason Phelan
Mixing: Jason Phelan
---
Artist: Nam June Robot
Track: 10 - I Could Stay Here Forever
FB.Net Member: Miguel
Instrumentaion/Vocals: Miguel Sanchez.
Website: www.namjunerobot.com
---
Track: 11 – 1826
Artist: Parchment Farm
FB.Net Members: Blackpurse, SteakNSabre
Vocals: Veronica Rusnak
Guitars/Space Box: Brian Wensing
Electric Guitar: Rick Hake
Bass: Dan Mullen
Drums: Andy Pagel
Engineering – Rick Hake
Mastering – Dan Mullen
Producer – Parchment Farm
Exec. Producer – Dr. R.K. Orient
---
Artist: Michael DiSanto
Track: 12 - Pure Denizen of the Citizens Band
FB.Net Members: mdisanto
Vocals: Michael DiSanto
Guitar/Drums: Michael DiSanto
Saxophone: Michael DiSanto
Mixing: Michael DiSanto
Website: www.reckwest.com
---
Artist: Derek Olson
Track: 13 - White Noise Maker
FB.Net Member: ProverbialCereal
Instrumentation/Vocals: Derek Olson
Mixing: Derek Olson
Website: TBA
---
Artist: Christopher Van Epps
Track: 14 - Skeleton Man
FB.Net Member: cvanepps
Vocals: Christopher Van Epps
Guitar/Drums: Christopher Van Epps
Keyboards: Christopher Van Epps
Mixing: Christopher Van Epps
Website: http://home.nc.rr.com/dootie
---
Artist: Peter Radiator
Track: 15 - Cold Heart of Stone
FB.Net Member: Peter Radiator
Drums, Lead and Backing Vocals: Jim Reed (Peter Radiator)
Acoustic Guitar and Backing Vocals: Craig Johansen
Piano, Keyboards and Backing Vocals: Jason Anderson
Electric Guitars, Slide Guitar and Leslie Guitar: Kevin F. Rose
Electric Bass Guitar: Miles Hendrix
Produced by Jim Reed with Kevin F. Rose and Jason Anderson Recorded at Elevated Basement Studios in Savannah, GA. Engineered by Jason Anderson and Kevin F. Rose Mixed by Kevin F. Rose
Website: www.elevatedbasement.com
---
Artist: The Ohms
Track: 16 - The Marsist
FB.Net Members: theonecontender, MIRV
Vocals/Guitar/Organ: Steve Holub
Backing Vocals/Bass Guitar: Glenn Holub
Drums: Ace Tone Rhythm Producer
Mixing: Steve/Glenn
Website: http://www.theOhms.net
---
Artist: P F Altas
Track: 17 - End Of Miles
FB.Net Member: makeyourheadgopop
Vocals: Paul Zaic
Guitar/Trombone: Paul Zaic
Mixing: Paul Zaic
Webpage: http://mason.gmu.edu/~pzaic/index.html
---
Artist: Neil Citter
Track: 18 - How You Went So Far
FB.Net Member: Kingmob999
All instruments and vocals: Neil Citter
Mixing: Neil Citter
---
Artist: Clootie
Track: 19 - I'll Be Blue
FB.Net Member: Atheist4Catholics
Drums: Josh Florian
Bass: Jon Hindmarsh
Cello: Ethan Gray
Violin: Szuhwa Wu
Everything Else: Tim Franklin
Produced and Engineered by Tim Franklin. Drums, strings, and percussion used with permission from other Clootie songs or SFX CDs.
Website: www.mp3.com/clootie
---
Artist: Zipper
Track: 20 - Whispering Weeds
FB.Net Member: Zipperrock
Music/Arrangement: Zipper
Vocals: Ben Kindberg
Produced & Recorded by Zipper @ Incubator Studios 51 Knollwood Rd. Brimfield, MA 01010
Website: http://www.zipperrock.com