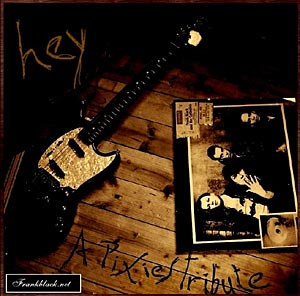 Cover of the 'Hey' tribute
Hey - thanks for checking this out.
Hey - you wanna hear what FrankBlack.net members have been up to? Just like the previous FB.net Tribute 'You Ain't Me', you can download the virtual album 'Hey' off the FB FTP, completely for free!
Hey - I think you're gonna like it!
- Dave Noisy, Minister of Chaos,
- December 19th, 2003
---
= Hey - A Pixies Tribute =
December 2003
CREDITS:
What People Are Saying about Hey!
Ken Goes, manager of the Pixies:
I have now listened to "Hey" and it's the most fun I've had in 2004.

PS: Seriously, this is the 4th Pixies' tribute album I've heard and it is as good, and in many instances better, than the other 3.
JOhn Doe from 4AD says:
"... [we] put the Pixies tribute on immediately and we all love it! It's so cool! And fun! My fave is still the Debaser cover at the start - a great Friday afternoon end of the week version! Ahhhh lovely! Thank you for that!"
---
Not convinced? See for yourself
"Hey" Sampler MP3 (96kbps, 1.52MB)
STREAM | DOWNLOAD
HOW TO DOWNLOAD:
Visit the Frank Black Forum, sign up, then visit the FTP area. You will need an FTP client to download the album - check out the FTP FAQ for info on this if you need help. (Note: you will not be able to view the area until you sign up and log into the Forum.) The CD Cover and Tray Inserts, as done by Tom Matthews is located on the FTP as well.
DETAILS:
There are two groupings of songs - the ones selected for the 'Album', and all other contributions, which are listed as 'B-Sides'. They're all encoded as 192kbps MP3's, and the 'Album' tracks have been mastered by Tim Franklin.
CD BURNING TIP:
The MP3s have the track spacing built in so that you can listen to the 'album' on a computer with correct spacing. To duplicate this on a CD, burn disc at once with no pauses between the tracks (you can't remove the pauses unless in DAO mode) to get that same spacing which we meticulously adjusted.
TRACK LISTING (Scroll down for more details):
1) Mother Universe - Debaser
2) bison 6 - Allison
3) Ledergeist - Mr. Grieves
4) Avelimp - Blown Away
5) New Retros - I've Been Tired
6) Grozio - Subbacultcha
7) The Dale Nixons - Planet of Sound
8) Jim McLuckie - Bailey's Walk
9) Nunyeit - Bone Machine
10) Dave Noisy vs The Claw Machine - Broken Face
11) zenEQ - River Euphrates
12) Jeff America - Palace of the Brine
13) Cameron Brown - Alec Eiffel
14) Prion - Manta Ray
15) Asterid - There Goes My Gun
16) Big Big Love - Isla De Encanta
17) Nam June Robot - All Over The World
18) Derek Olson - Where Is My Mind
19) The Cut*off - Monkey Gone To Heaven
20) Mike DiSanto - Silver
21) Clootie - The Holiday Song
22) Perfume & Cigarettes - Levitate Me
---
Track: 1 - Debaser
Artist: Mother Universe
FB.Net Member: Martina
Credits go to: Bbrain, Berni, Kurti, Maarten, Micky, RafBoy, Ray, Schwer Records, Suek, The A.C.E., Pixies
Website: www.mother-universe.com
---
Track: 2 - Allison
Artist: bison 6
FB.Net Member: oil boy
Vocals/Guitar – Brian "Pony-boy" Fitz
Bass/Backing Vocals – Matthew "Ben-Hur" Witmer
Drums/Backing Vocals – R. Matthew "Ocho Pepe" Good
Recorded/mixed: Ben-Hur/Ocho Pepe
---
Track: 3 - Mr. Grieves
Artist: Ledergeist
FB.Net Members: Steak n Sabre, blackpurse
Guitar/Vocals: Brian Wensing
Bass/Vocals: Dan "Myles" Mullen
Drums: Andy Pagel
Trombone: John Frankovic
Chanteuse: Veronica Rusnak (Frau Brian Wensing)
Engineer: Grant Richter
Produced by: John Frankovic
Recorded live at Von Richter's Gasthaus and Youth Hostel, Oktober, 1926
Website: www.subgenius.com
---
Track: 4 – Blown Away
Artist: Avelimp
FB.Net Member: The Holiday Son
Guitars/Vocals: Michaël
Bass: Gaël
Drums/Sax: Etienne
Mixing: Avelimp
---
Track: 5 - I've Been Tired
Artist: New Retros
FB.Net Member: Bailey_warts
Vocals/Drums: Richare
Guitars: Antouann
Bass: Mah-ree
---
Track: 6 - Subbacultcha
Artist: Grozio
FB.Net Member: Grozio
Website: www.grozio.org
---
Track: 7 – Planet of Sound
Artist: The Dale Nixons
FB.Net Member: Cookie
Instrumentation/Vocals: Doug Bice
---
Track: 8 – Bailey's Walk
Artist: Jim McLuckie
FB.Net Member: El Barto
---
Track: 9 - Bone Machine
Artist: Nunyeit
FB.Net Member: Littleblackfrancis
Lead & Backing Vocals/Guitars/Bass: Andy Pleva
Backing Vocals: Andra West
Drums/Moog: Steve West
"I'm going to find the wolfe": Lulu West
Production/Engineering: Steve West & Andy Pleva
---
Track: 10 – Broken Face
Artist: Dave Noisy vs. The Claw Machine
FB.Net Member: Dave Noisy
Website: www.TheNoisies.com
---
Track: 11 - River Euphrates
Artist: zenEQ
FB.Net Member: KennySue
Instrumentation/Vocals: Kenneth Susan Benham-Pile
Sampling/Sequencing/Programming: Kenneth Susan Benham-Pile
Mixing: Kenneth Susan Benham-Pile
Additional Lyrics: Kenneth Susan Benham-Pile
Thanks to Dag Wieers for the Tab
Website: www.freewebs.com/kennethsusan
---
Track: 12 - Palace Of The Brine
Artist: Jeff America
FB.Net Member: Jefrey
Drums: Mick Fleetwood
All Other Instrumentation/Vocals: Jeff America
Website: www.motoproject.com
---
Track: 13 - Alec Eiffel
Artist: Cameron Brown
FB.Net Member: gr1bbly
Website: www.gribbly.org
---
Track: 14 – Manta Ray
Artist: Prion
FB.Net Member: sprion001
---
Track: 15 – There Goes My Gun
Artist: Asterid
FB.Net Members: Cult_of_Frank & speedy_m
Vocals/Keyboards/Backing Vocals: Dean Katsiris
Guitars/Bass/Drums/Backing Vocals: Mike Velonas
Production/Mixing: Dean Katsiris
Website: www.asterid.com
---
Track: 16 - Isla De Encanta
Artist: Big Big Love
FB.Net Member: BigBigLove
---
Track: 17 - All Over The World
Artist: Nam June Robot
FB.Net Member: Miguel
Website: www.namjunerobot.com
---
Track: 18 - Where is My Mind
Artist: Derek Olson
FB.Net member name: Proverbialcereal
---
Track: 19 - Monkey Gone To Heaven
Artist: The Cut*off
FB.Net Member(s): blue cadet3
Vocals/guitar- Kyle Barnhill
Guitar- Jayson Hamilton
Bass- Chad Sones
Drums- Jake Webster
Backing Vocals- Tim Phelan
Production/Engineering- Tim Phelan @ CRT studios in Arlington, Tx.
Website: www.thecutoff.com
---
Track: 20 – Silver (club mix)
Artist: Mike DiSanto
FB.Net Member: mdisanto
Credits: Mike DiSanto
Website: http://filebox.vt.edu/users/mdisanto/public/songs/songs.htm
---
Track: 21 – Holiday Song
Artist: Clootie
FB.Net Member: Atheist4Catholics
Produced, Engineered, & Performed by Tim Franklin
---
Track: 22 – Levitate Me
Artist: Perfume & Cigarettes
FB.Net Member: Minky303
Credits: Jimmy Riddler, Ludwig Van Watermelon, Minky Marie, Pun Derosa, Vida Cummins